Replica Medals and Medal Mounting
MEDALS
Quality mounting, replicas and restoration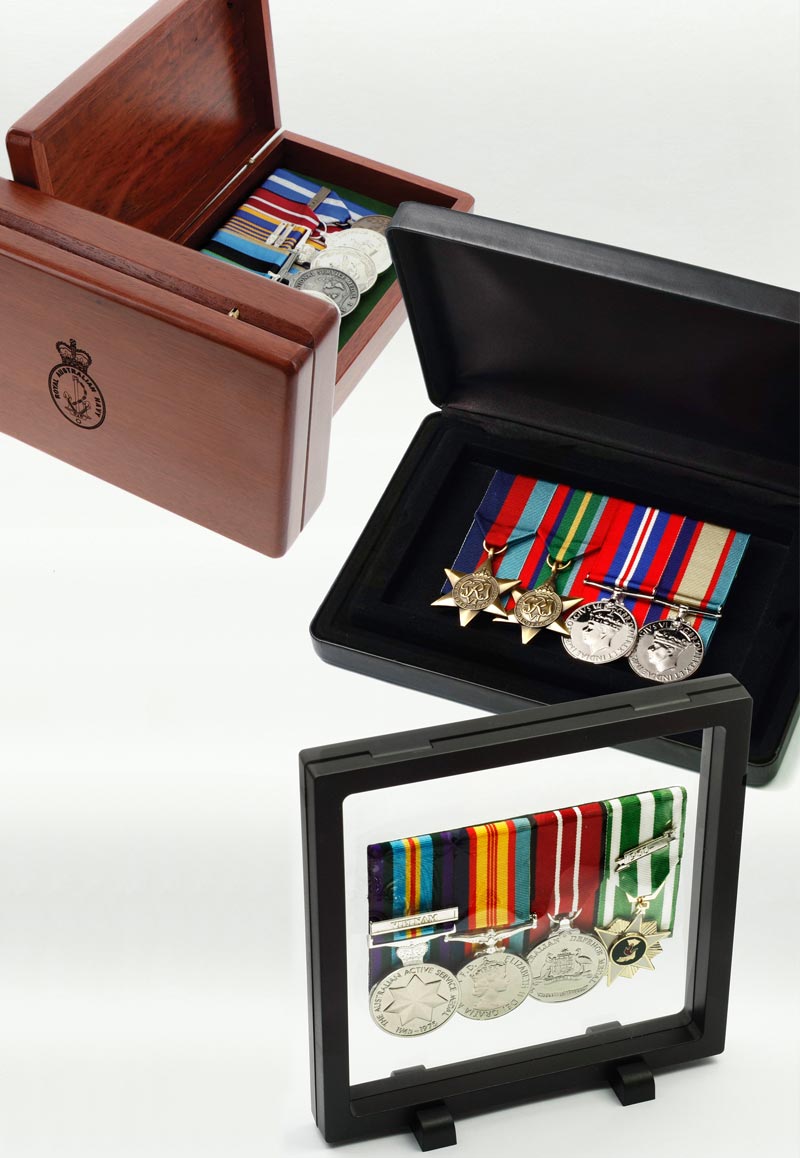 Army Shop can mount or re-mount your existing medals, replace worn ribbons or provide quality replica medals, clasps and bars. Our medals team is ready to help you.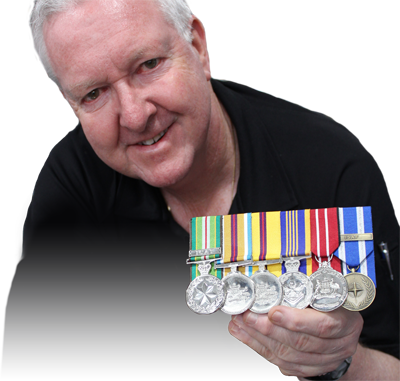 Testimonials
At we do what we do because of you - our happy customers. Ordering medals can be challenging and our medal experts work with you through the process to ensure you are ordering the right medals. More than 25 years' mounting and re-mounting medals ensure you get an impeccable service. Read some of the feedback we have received from our happy medal customers.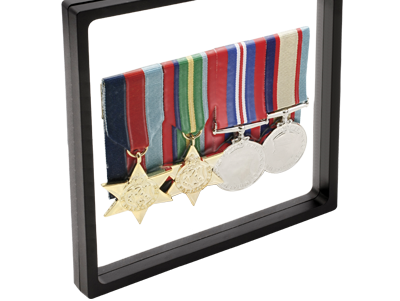 Levitating Display Frames
Enjoy your medals with these innovative display frames. Contents are held in place by two flexible silicone membranes and appear to be "levitating" in the frame. Hinges allow easy access to your medals when required for wear. A perfect display for your treasures.
QUALITY REPLICAS FOR WEAR OR SHARE
Original medals can be hard to replace if lost or damaged. Quality replicas are created to the exacting standards of originals and once mounted can be almost indistinguishable. Quality replicas are identified from originals only by 'REPLICA' stamped either on the rim or rear.
Ancestry Medals - Family of Service Replicas
Create medal groups to remember and share in family service, from the Great War to Vietnam, or today's service. Find your story in the Common Medal Group replicas below or create the medal group based on Service records.
Free Family Medals Certificate
Create a certificate to accompany your replica medals. Simply add details to the Medal Presentation Certificate and make your medals an even more special part of your family's story.
Australia's Best Prices for Mounted Replica Medals
Medals

Miniature

Full Size

Ribbon Bar

1

$35

$50

$10

2

$70

$100

$15

3

$105

$150

$20

4

$140

$200

$25

5

$175

$250

$45

6

$210

$300

$50

7

$245

$350

$55

8

$280

$400

$60

9

$315

$450

$80

10

$350

$500

$85

Prices include the very best quality replica medals and court or swing mounting. Clasps are additional $10.00 for full size and $8.00 for miniature.
Download the Medals Order Form
Full Size Common Medal Groups
Miniature Common Medal Groups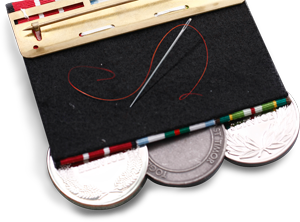 MEDAL MOUNTING AND RESTORATION
Refresh your original medals with new ribbons; replace lost clasps, citations or bars; remount them or repair or replace fixing pins. Our team has years of experience working with and for Australian Military and is trusted by hundreds of servicemen and women each year.
For restoration services and advice contact our medals team on 02 6123 2960 or email.
ALL ABOUT MEDALS
There are hundreds of medals issued to military, police, emergency services and civilians. Each Award is governed by strict protocols which protect the integrity of Australia's Honours and Awards System.
Who and How to Wear Medals | Mounting Options | Miniatures & Full Sized | Ribbons | Order of Wear | Ribbon Bars | Storing and Cleaning | Useful Links
Who and how to wear medals
Medals are to be worn by the recipient of the medals on their left chest for commonwealth medals and the right chest for state awards. Although not official, of someone who was awarded medals can wear that person's medals on the right side to show that the medals are not their own.
Mounting options
Court mounting is where a medal or a collection of medals are mounted on a stiff board. This holds the medal/s in place as well as suspending them. Full-sized medals may overlap as dictated by protocol. Being court mounted rigidly to the board medals cannot clang against each other which avoids damage. The ribbon is extended behind the medal when court mounted.
Swing mounting is where the medal is suspended by the ribbon from a broach pin or other attachment. These medals are free to 'swing' and do hit each other which can cause damage.
Miniatures and Full Sized
There are normally two different sizes of medals. Full-size medals are normally worn on service dress or to daytime events. Miniature medals can be worn with evening dress, such as mess dress, and for black tie events. There are exceptions to the rule where there may be neck-worn awards as well as other forms of decorations, however these types of awards are rare.
Miniature medals do not overlap unless the number and size exceeds the distance between the lapel and shoulder seams. This needs to be considered when ordering.
Ribbons
Each medal is suspended from a ribbon which is unique to that medal. These ribbon designs are influenced by the nature of the award.
Order of medals
All Australian and British Imperial awards are worn in accordance with an order of precedence from left to right. For example a Victoria Cross would sit on the far left and foreign awards to the right. If the medals are being overlapped then the medal on the far left will be on top of the medals to the right. Foreign awards, including UN and NATO medals, are mounted after Australian medals if the individual is with an Australian agency, such as the ADF, Police etc. Foreign awards are ordered by the date which they were awarded.
State medals are mounted with other state awards and worn on the right chest. These medals are mounted in the opposite way to the commonwealth medals and have the order of the medals reversed. As with the commonwealth medals, they also have an order of precedence.
Ribbon bars
Ribbon bars are a way of displaying the awards for an individual when not wearing medals. They are common-place for service personnel as well as police and emergency service personnel in their normal day to day work roles. There may be clasps, rosettes and dots on ribbon bars depending the medal. Ribbon bars are four medals wide per row for males serving in Army and Air Force with females wearing ribbon bars three medals wide with a new row starting with the fifth and fourth medals respectively. Navy personnel wear have the choice of wearing either three or four medals per row. Ribbon bars can also have a plastic coating on them, normally used by emergency service personnel.
Storing and cleaning medals
Medals should be stored in a clean dry area. A medal box or case is a perfect place to store them. As they are very valuable, medals should also be kept secure. Clean them with a non-acidic cleaner or just a damp cloth, a non-abrasive pencil eraser also works well.
Useful links
Guidance on Wearing of medals
MEDALS
TESTIMONIALS
At Army Shop we do what we do because of you - our happy customers. Ordering medals can be challenging and our medal experts work with you through the process to ensure you are ordering the right medals. Our experience of more than 25 years' mounting and re-mounting medals ensure you get an impeccable service.
Read below some of the feedback we have received from our happy medal customers.
"Just to let you know that the beautifully mounted medals and ribbon bar arrived safely. I can't thank you enough for your assistance in achieving this result and in particular you recommendation to use the "aged type" for the two stars, they look stunning! We are most grateful for you guidance through this most daunting task."
Marie & Jake Romijn
"I recently had my Dad's war service medals mounted by you and have had them returned. I was absolutely thrilled with the job you did and wanted to thank you very much."
Vicki Anderton
"Just a quick email to say thanks so much for going to the trouble to get my medal order to me so quickly...esp. Marty. It's superb quality, and my Uncle's medal set is now complete. I will be placing future orders but the urgency won't be as great. Thanks again"
Shane Mills
"Many thanks for your help and input and will recommend Brandnet Pty Ltd to my friends who have yet to have their medals mounted"
Kerryn & Barry Little
"We were all very impressed with the finished product and the professional service provided by your company. Thank you for all the effort that went into a product that we can deliver to employees and customers at our opening ceremony with pride"
Angela Soeters
"Just a quick note to let you know the medal arrived home safely. We are very pleased with the result. Thanks for your assistance."
Merv Binning
"Package arrived here today, incredible service and turnaround"
Jim Gronbach
"My G20 Citations arrived today. Many thanks for the quick service. I will be buying from you again and recommending you to others"
Jeff Campbell
"Thank you for your quick delivery. The medals arrived this morning on the 5th month anniversary of my brother in law Antonio Rokov 21-11-15."
Jojo Rokov
"I have received my order this morning, thank you. The service from Army Shop was excellent. Being kept up to date on delivery, very professional and good customer service."
Hazel Cat
MEDALS
Frequently Asked Questions
This year marks the 102nd anniversary of Australian and New Zealand forces landing at the Gallipoli peninsula on 25 April 1915. Since then Anzac Day has been a day of remembrance on which we commemorate all those who have sacrificed so much in conflicts since that fateful day – especially those who made the ultimate sacrifice in service of their nation.
Because of the significance of Anzac day, it is encouraging to see the growing participation of Australians, both young and old, many of whom have served themselves or wish to honour the service of their kin. Proudly wearing your own service medals or those of your ancestors is one of the most appropriate ways in which to commemorate and celebrate the Anzac Spirit.
Since military medals are usually regarded as family heirlooms, many of us may be vaguely aware of medals stashed away in cupboards and drawers for safekeeping, knowing little about their significance or how to wear and display them appropriately. Here are some frequently asked questions about wearing your ancestor's medals on Anzac Day:
Frequently Asked Questions