Vietnam Figurines
Vietnam War

Figurine Collection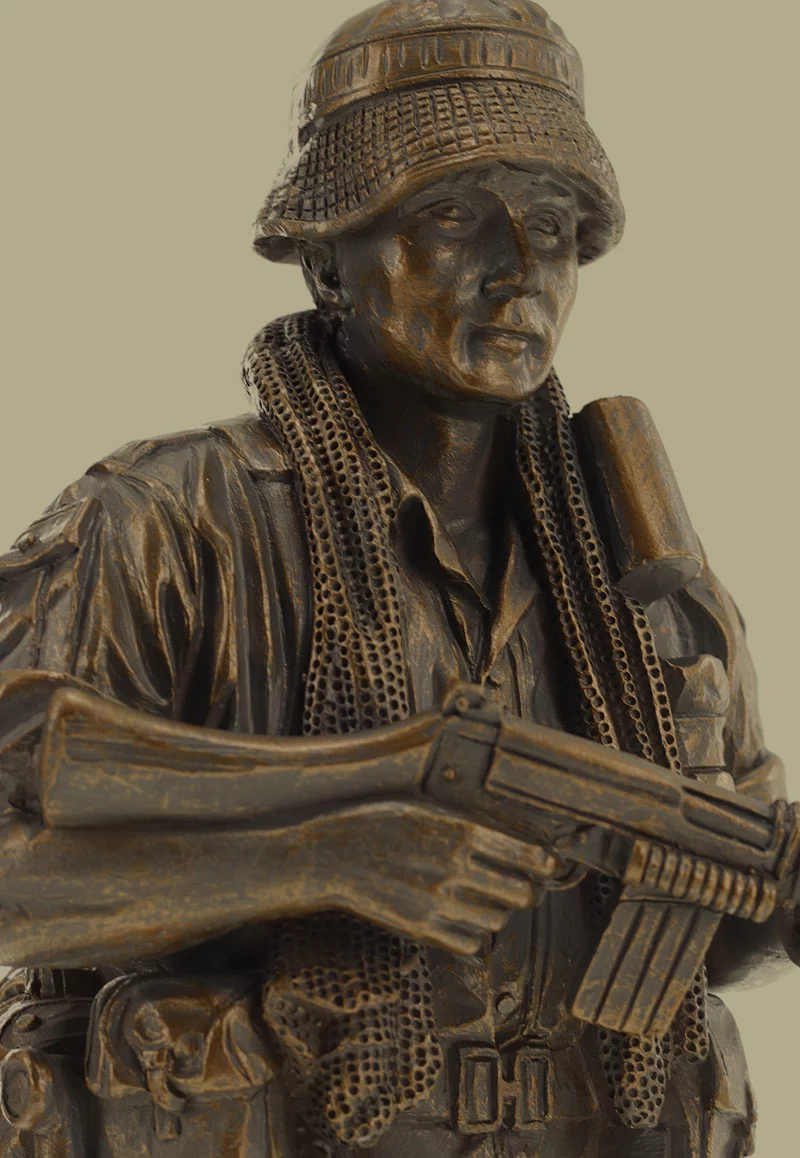 Exquisitely crafted cold cast bronze figurines. Each figurine is exhaustively researched and meticulously detailed.
NEW! Master Creations Vietnam Infantry figurines
The uniform and equipment worn by this infantryman is representative of Australian servicemen during the conflict in Vietnam. The floppy design of his bush hat, or 'giggle hat', was intended to break up the outline of the head, helping to camouflage the wearer, as well as providing protection from the elements. He is armed with the iconic L1A1 Self Loading Rifle, which was the standard battle rifle of the Australian Army from 1960 to 1992. His equipment has been optimised for patrolling in the dense tropical forests of Vietnam. Several water canteens and ammunition pouches are attached to US M1956 Load-Carrying Equipment webbing and a cotton mesh sweat rag is worn around the neck. The Army issued combat shirt and trousers would have been a subdued shade of Jungle Green, often referred to 'jaygees'.
Full-sized and miniature figurines available.
Full-sized Figurine is approximately 30cm tall, including its base. Limited Edition to only 5000 castings available world wide.
Click here to buy
Miniature Figurine is approximately 20cm tall.
Click here to buy
Naked Army 1ATF RAR Infantryman c1966
Typical of 1st Australian Task Force infantryman circa 1966 this Naked Army figurine wears rain-soaked early pattern 'greens' & US made M56 basic webbing supplemented by pattern 44 basic pouches. His L1A1 SLR rifle features early fore-wood & wooden carry handle and was standard issue to riflemen. 1 ATF/RAR members wore variations on this typical theme during the 1965-67 period. Size: 315mm tall
SOLD OUT
Naked Army 'Jonesy' Helicopter Crewman Late Vietnam Conflict
This cold cast bronze figurine wears gear representative of a helicopter crewman late Vietnam Conflict. He wears a lightweight one-piece flight suit, nomex gloves, "chickenplate" ballistic armour, a mesh survival vest and AFH-1 flight helmet. His sidearm is the Browning 9mm automatic commonly carried by RAAF crewmen. Size: 315mm tall
Click here to buy
Naked Army RAR - Late Vietnam Conflict 1969-70
Naked Army's cold cast figurine represents a late Vietnam conflict RAR our ANZAC battalion rifleman wearing late issue 'pixie' style uniform & Australian made M56 webbing equipment. His customised load includes an ARVN pack, collapsable water bladder, extra waterbottles & entrenching tool. He is armed with a Lithgow made L1A1 SLR rifle and carries it pointed to the ground to reduce the risk of being silhouetted. His face shows the intensity & strain of a long patrol, and he is portrayed bare-headed, awaiting extraction by helicopter.
1:6 SCALE Cold Cast Bronze Figurine Actual Size: 310mm tall
SOLD OUT
Master Creations Nasho Figurine
The Master Creations Nasho Figurine is the perfect present for veterans to remember their service. A special memory for Nashos and collectors alike. A part of the history of National Service in Australia is celebrated in this superb 300mm tall limited edition figurine of a Nasho in the distinctive Nasho beret and blazer. Cold cast in bronze, the figurine sits atop a 130mm x 130mm base. Ideal as a gift, memento or award for special people on special occasions. Will easily accommodate a standard 15mm x 60 mm inscription plate for messaging. Only 5,000 castings to be made.
Click here to buy